Live since 2006, Intertops is one of the oldest online casinos around, with players in Nigeria being able to take advantage of a host of entertaining and potentially rewarding games. It is not only this which attracts players however, with Intertops having gained an excellent reputation when it comes to promotions.
One of the latest to have been introduced is their "Summer Dream" offer, which $30,000 in weekly prizes. So, for your chance to be in with a chance of winning, be sure to check out how to get involved below, as well as the key terms and conditions surrounding this promotion.
Intertops Casino Summer Dreams Offer: How to Take Part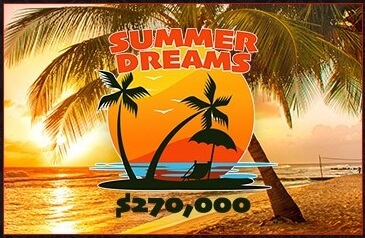 Running up until the 7th September 2020, 300 leaderboard prizes are awarded to players each and every Monday at Intertops, with bonuses up to $500 being up for grabs. If this sounds like something for you, then follow the simple steps below:
1. Log in to your Intertops Casino account or sign up today.
2. Deposit and play with at least $75 in order to qualify for "Monday Bonuses".
3. Earn 1 point for every $100 played on casino games.
4. The more points, the greater your chances of winning!
Meanwhile, prize draws also take place on Thursdays at Intertops, with those who have played between Monday-Wednesday being in with a chance of winning. 50 free $20-$150 bonuses are up for grabs in this case. On top of this, and after the final promotion date has passed, a $1,000 cash prize will be awarded to the player who placed among the top 20 weekly players.
Intertops Casino Summer Dreams Offer: Terms & Conditions
As far as terms and conditions are concerned, there is no strict points to concern yourself with, however as we have already mentioned, players must deposit and play $75 or more at Intertops Casino in order to qualify for a potential Monday bonus. Meanwhile, depositing and playing with $25+ will see players qualify for the Thursday draw. Bonuses on a Monday are delivered to the top 300 players of the week, with winners being notified via email. It is also worth noting that points do not roll over to the next week, with new deposits being required instead.
Intertops Casino Summer Dreams Offer: Conclusion
Players at Intertops are in a position to claim regular bonuses thanks to their Summer Dream offer, which is available to players in a host of countries, including Nigeria. With draws now taking place twice per week, your chances of winning have doubled, with rewards sometimes being significant. So, process a qualifying deposit and play your favourite casino games at Intertops in order to be in with a chance of winning big!