In sports betting, betting on the favourite teams usually yields a meagre profit and betting in favour of the underdog often results in a loss. This arrangement always leaves bettors struggling to win big while striving to keep their losses under check, a result that seems unattainable. The option developed to compensate for this apparent imbalance in the sports betting industry is handicap betting.
Handicap betting is an option that tends to strike a balance in sports betting by attaching a certain margin by which participating teams in a game must win or lose a game, allowing punters to get incredible winnings and more value from their bets.
This guide to handicap betting will cover everything you need to know about the betting market as a Nigerian punter.
Best Betting Sites in Nigeria for Handicap Bets
Option to bet live on a sporting event
Lots of promotions for new and loyal users
Plenty of available betting markets
Good choice of games
Fast withdrawal times
Large number of games developed by leading software providers
Easy to use website
A full section of promotions and bonuses
Frapapa licenced in Nigeria
In-play wagering function
24/7 Customer Support
Multi-live betting
Several bonuses and promotions
Transactions with cryptocurrencies only
The 6-level Vip program
24/7 available customer service
In-play betting on sporting events
Lots of bonuses and VIP program
Android and iOS applications
In-play and live streaming of sporting events
Adaptability to new and old mobile devices
A large number of betting markets
Great Sports betting and Live Casino
Over 80 payment methods
Nice bonuses for new and existing customers
---
What is Handicap Betting?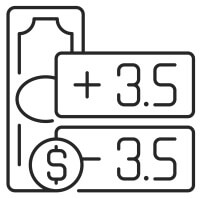 In sports betting, a handicap is an advantage given to a competitor to equalise the chances of both parties winning. The term is more prevalent in horse racing, where the fastest horses are held down by some weights to level the playing field for the other horses.
The same applies to handicap meaning in betting. Also known as "point betting", "line betting", and "spread betting", handicap betting is the form of betting that provides an advantage and disadvantage to the participating teams based on their capabilities before a sports event starts. It deals with points or goals in a game and is a good betting option for punters in games where there is a clear difference in the abilities of the opposing teams.
Here, the favoured team will get a goal handicap/disadvantage while the weaker team will get a goal/point advantage (head start), both of which will be considered when calculating the final bet result. The favoured team is known as the favourite and is more likely to win the game, while the weaker team is referred to as the underdog and is less likely to win.
This betting market levels the playing field, making it possible for punters to get reasonable profits on the favourite and at the same time stand a chance to win by betting on the underdog.
Typically, there are two common types of handicap betting, namely the Asian Handicap and the European Handicap.
European Handicap: Also known as a "three-way handicap" or "single handicap", the European handicap is a 3-way bet similar to the 1X2 match result. Here, you can bet on the home team to win, the away team to win, or the game ending in a tie. Unlike the Asian handicap, this handicap option uses whole numbers.
Asian handicap: The Asian handicap is the handicap bet option that eliminates the chances of a draw in a game, bringing the possible outcomes to two. Here, whenever the final result of the handicap ends in a draw, you will get back your stake. This type of handicap is mostly used in football. The Asian handicap uses decimal numbers, like "-0.5, +1.5, -7.5, etc.," which indicates that a handicap draw is impossible.
---
Why Should Punters Place Handicap Bets?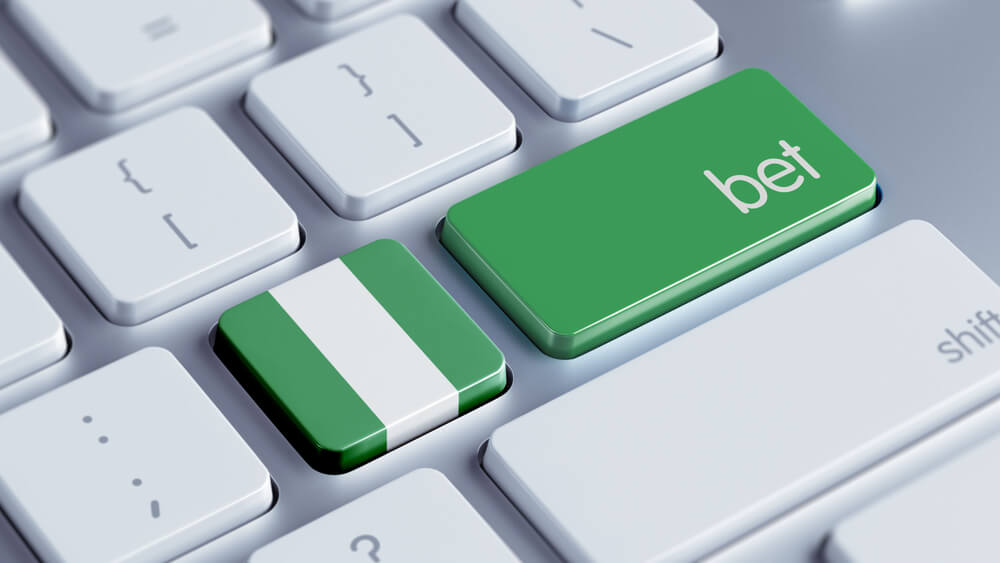 During any sporting event, sportsbooks would analyse the teams in the event to determine which one has the higher chances of winning and the one with the lower winning chances.
Based on what they determine, the sportsbooks assign odds to each outcome. The team with a higher winning chance, also known as the favourite, will usually have pretty low odds. The one with a low winning chance, popularly referred to as the underdog, will have moderately high odds. As a result, the payout a punter would win on the favourite is usually quite low. And since the sportsbooks are almost always correct in their assessment in most cases, the underdog is usually not the best bet option.
To even out the playing field between two teams that are not evenly matched, the sports betting industry came up with handicap betting. As we have mentioned earlier, handicap bets give a goal/point disadvantage to the favourite team and a goal/point advantage to the underdog. This allows punters to get bigger payouts when they place bets on the favourites. Also, the bet allows punters to stand the chance of winning by betting on the underdog.
---
Maximise Your Advantages with Handicaps
Experienced sports betting enthusiasts will tell you that making profits in handicap betting and just about any form of sports betting market is not a cakewalk. Bookmakers often have a distinct advantage over the punters, making it hard to walk away with winnings.
This being the case, punters need to take any advantage that they can find when placing bets. Naturally, as is the case with most sports betting options, good and thorough research can make all the difference in making accurate predictions. Here are some other helpful pointers that experienced punters use to maximise their handicap betting:
Find the Best Odds.
Like any other betting market, the odds for handicap bets on sports betting sites often vary from one site to another. While the difference may not be huge, the payout difference tends to pile up over time. So before you settle on where to place your handicap bets, make sure the site offers the best possible odds.
Stay away from Unrealistic Handicaps
One simple truth about handicap betting is that it is easy to get tempted to push your luck with handicap bets by going for longshot handicaps with better odds. However, it would be best to avoid such bets as they often lose.
Engage Multi bets
One of the best ways to improve your winnings when placing handicap bets is to combine multiple bets in an accumulator or system bet. This will improve the payouts you stand to get if your predictions proved accurate.
---
Handicap Betting Example
To help you understand the meaning of handicap in betting, we will look at an example of an Asian handicap market. Let's say that a sportsbook features a 6.5 handicap on the NBA game between the Memphis Grizzlies (+6.5) and the Golden State Warriors (-6.5).
With such a market, it is safe to say that Memphis Grizzlies is the underdog, so the sportsbook gives it a head start of 6.5 points. On the flip side, the Golden State Warriors are the favourite, which is why 6.5 points will be removed from their eventual points. Essentially, the Memphis Grizzlies are already winning by 6.5 points as far as the bet is concerned, even before the start of the game.
As such, any bet on the Memphis Grizzlies will win as long as the Golden Warriors don't beat them by seven or more points. This means that if Memphis Grizzlies win the game, you win your bet; if they tie, you win your bet; and if they lose by six or fewer points, you still win the bet. On the other hand, as long as the Golden State Warriors win the game with a seven or more point margin, you will win your bet on them. However, if they lose the game or win by anything less than 7 points, you will lose your bet on the team.
To help you understand better, the table below will show a few handicaps and how they are settled in bets.
Handicap
Team Result
Bet Settlement
-1 (Favourite)
Win by 2 or more
Win
Win by 1
The score is essentially (1 – 1), so a Tie.

Stake is refunded

Draw
Lose
Lose
Lose
+1 (Underdog)
Win
Win
Draw
Win
Lose by 1
The score is essentially (1 – 1), so a Tie.

Stake is refunded

Lose by 2 or more
Lose
-7.5 (Favourite)
Win by 8 or more
Win
 
Win by 7
Lose
Draw
Lose
Lose
Lose
+7.5 (Underdog)
Win
Win
Draw
Win
Lose by 7
Win
Lose by 8 or more
Lose
---
Pros/Cons
From what we have explained so far, you will agree that there are many benefits to be enjoyed on handicap bets. However, much like any other bet type, it also has a few disadvantages. So, in this section, we will take a close look at some of the pros and cons of placing handicap bets.
Pros
Level the playing field for the underdogs: Perhaps the most important advantage of handicap bets is that it levels the playing field and allows a punter to stand a chance of winning decent payouts on the underdogs.
Juicy payouts on the favourites: The betting option also provides juicy odds on the favourites, making it possible to earn big payouts, which is usually not the case with straight-matched betting like Moneyline or 1×2 bets.
Available across most betting sites: Unlike some unique exotic bets, handicap betting, especially Asian handicap bets, is pretty common in most sportsbooks. So, depending on which sports you want to place your bets on, you can expect to find handicap bets on most betting sites in Nigeria and beyond.
Cons
A little complex: Unlike straight matched bets or 1×2 bets, handicap betting can be difficult to understand at first glance, especially for newbies. As such, before you place a handicap bet, you need to understand what condition is attached to the bet and the number of goals that will be required to win a bet on either the favourite or the underdog.
Lower Odds for the underdogs: Another disadvantage of handicap betting is that it offers lesser odds for the underdogs than fixed straight markets. However, punters can win by betting on the underdogs since it levels the playing field.
---
Odds
You will agree that understanding how odds work is the first step toward success in sports betting. This is because the odds determine how much a punter stands to gain on a bet and often reveal your winning chances when placing a wager. The betting option with low odds has good winning chances, and the ones with a higher odd price have low chances of winning.
As we have already mentioned, the way handicap betting works is to give an advantage and disadvantage to each of the participating teams in a game based on their strength. As a result, the chances of winning for the favourite will reduce with the extra hurdle to cross, which will naturally have an increasing effect on the odds. Also, giving the underdogs an advantage right from the start will improve their winning chances, which naturally decreases the odds. However, this makes it possible for punters to win bets on the underdogs.
It is also worth noting that some sites feature different handicaps for the same game, and the odds you will find on matches will depend on the handicap's goals/points. For the favourite, the higher the handicap, the higher the odds, and vice versa. On the underdog side, the higher the handicap, the lower the odds, and vice versa. The table below shows a hypothetical scenario of handicap betting between Team A and Team B at a sportsbook and the effect each handicap has on the odds.

| | |
| --- | --- |
| Team A | Team B |
| -1.5 (5.900) | +1.5 (1.130) |
| -1.0 (4.500) | +1.0 (1.190) |
| -0.5 (2.500) | +0.5 (1.500) |
| +0.5 (1.425) | -0.5 (2.750) |
| +1.0  (1.170) | -1.0 (5.000) |
| +1.5 (1.125) | -1.5 (6.000) |
---
Handicap Betting Offers and Promotions
When placing bets on sporting events online, one of the most exciting things that many punters look forward to is the availability of bonuses and promotions. These offers allow players to enjoy more playing time at their preferred betting site while also standing a chance to walk away with bountiful winnings.
While you will rarely find any offer tailored for handicap betting, you will usually find several regular betting promotions that you can take advantage of when you place handicap bets. This usually comes in free bets, risk-free bets, enhanced odds, no-deposit free bonuses, deposit bonuses, cashbacks, seasonal promotions, etc. You can take advantage of these offers to place bets on handicap markets.
Also, don't forget to take advantage of VIP bonuses, loyalty bonuses, and features like Cash Out, Bet Builder, Live betting, etc.
However, you should remember that sports betting sites' offers and promotions usually have terms and conditions attached to their usage. So, before you take advantage of any such offer, check the offer's terms and conditions section to see if it is worthwhile.
---
What are the Alternatives to Handicap Bets?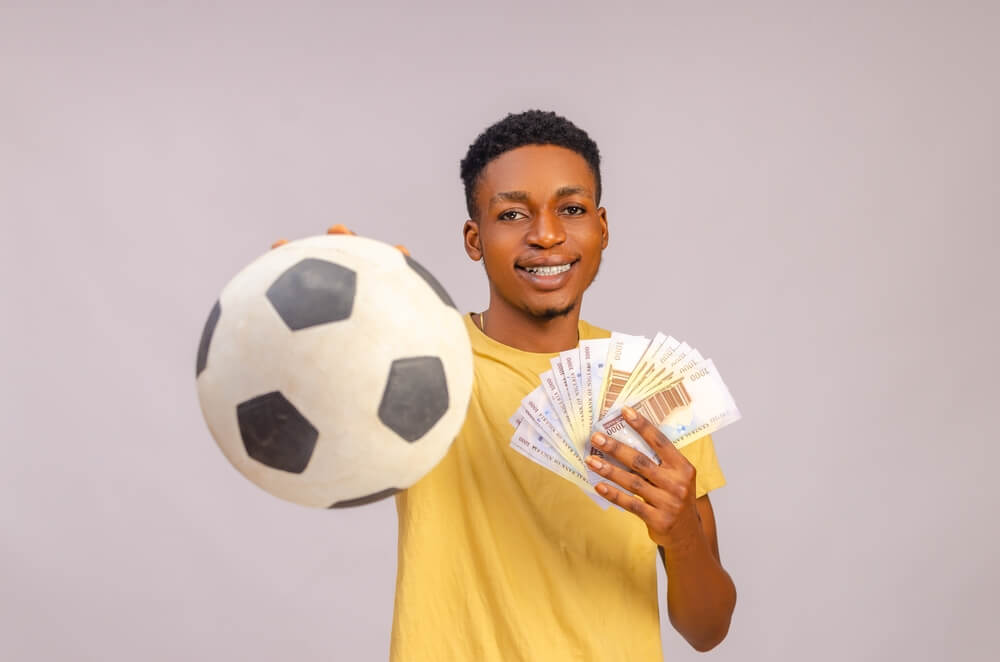 Handicap betting is, without a doubt, a great option for sports betting enthusiasts. Not only does it give punters the opportunity to get better winnings when they bet on the favourites, but it also allows them to enjoy winnings by betting on the underdogs. However, handicap betting is only one of many alternatives and may probably not be an option you would like. If that is the case, there are many other alternatives that you can opt for when you place bets. Here are a few popular ones:
Over/Under
Instead of betting on the team that will win a game, the Over/Under market, also commonly known as "Totals", allows punters to bet on the total goals that both teams will concede. The bookmaker will set a benchmark for the scores, and you will have to bet on whether the eventual total score will go over or stay under this benchmark. The only downside is that due to it being a 2-way market, the odds here are typically very low compared to some other markets.
Double Chance Bets
The double chance bet is a market that allows punters to cover two out of the three possible outcomes in a game. Here, you either bet on the home team to win or draw, bet on the away team to win or draw, or bet on either team to win or draw. Essentially, a double chance bet gives you a better winning chance than placing straight 1×2 bets. The only downside is that the odds in this market are usually very low, which means that punters can only get small returns on their stake.
---
FAQ: Handicap Betting
How do I place a handicap bet?
First, you need to find a suitable betting site, sign up, and deposit funds into your betting account. Then, you go to the sport you want to bet on and click on the handicap wager you want. This will automatically add the selection to your bet slip. You can then enter your stake and submit the bet slip to complete the betting process.
Is it possible to make multi bets?
Yes. Most sportsbooks allow their punter to place different bets as multiples within a single wager. Handicap bets are eligible for creating such multi bets. You simply find the handicap wagers you want to place and add them to your betting slip.
Can I cash out a still-to-be-settled bet?
This largely depends on the sports betting site you use for your handicap bets. While some sites allow their punters to cash out early on handicap bets, others do not. Availability of the Cash Out feature can also depend on the sport.
Can I use my mobile for handicap betting?
Yes. Mobile betting has become a big deal in today's sports betting industry, so you will hardly find any online bookie that does not have a mobile-friendly platform, be it in the form of a downloadable mobile app or a mobile-optimised website. You can use any available medium to place handicaps right on your mobile devices.
Should I expect to win every bet I make?
No. As it attaches some extra conditions to winning a wager, handicap bets can go in the opposite direction from what you predict. Plus, sports betting generally is unpredictable, and there is no 100% guarantee that you will win any bet you place.
---
Responsible Gambling
Regardless of what form of betting you decide to engage in, you must always remember to keep responsible gambling in mind. This is because it is too easy to get carried away with the excitement of sports betting, which can lead to some undesirable results.
Thankfully, responsible gambling has become a mandatory culture in the iGaming industry. Most online sports betting sites now come with a section dedicated to responsible gambling, where you will find several helpful information and limiting tools that can help you keep your gambling activity in control. Don't hesitate to make use of them.
---
Recap of Handicap Betting.
To sum up, handicap betting is undoubtedly one of the most popular betting options for punters in Nigeria. Not only does it make betting on the big favourite a worthwhile and rewarding option, but it also enables punters to win their bets even when the underdogs they wager on lose a game. This is because handicap bets strike a balance by giving a virtual advantage and disadvantage to the underdogs and favourites, respectively.
If you have not engaged in handicap betting before, don't hesitate to give it a try. It is easy to learn and understand, exciting, and most importantly, can be a great way to earn some amazing winnings in sports betting. You can check out our recommended list of the best handicap betting sites on our page to find the right fit and start having fun.