You no longer have to visit your local kiosk to place a bet! Merrybet – the King of Mobile sports betting in Nigeria – has made it possible for you to bet from the comfort of your own home! And they will exceed your expectations. Tap into the sports betting platform and start betting today! With more than 10,000 sporting events on offer annually, there is more money to make betting with Merrybet than you can shake a stick at. With this many events, it can be difficult to know the best to pick from and how to go about betting online. Read our Merrybet mobile betting guide to get all your answers!
Merrybet Mobile Sports Betting Features
Hit the ground running and try out the Merrybet mobile platform which enables you to wager on every point. The Merrybet sports betting platform puts you in the front line. Place a live bet with competitive odds as you watch the action unfolding. The Merrybet mobile platform is built around your passion for the sport, offering you the opportunity to personalize your betting experience.
Compatible Across Multiple Devices
When betting online, especially when you are using your mobile phone to do so, one of the most important things to consider is the compatibility of your device. If the online betting site you intend to use doesn't work smoothly with your device, then it beats the sense of you wagering there. If it keeps crashing while you are in the middle of using it or takes a long time to load a single page you are better off betting elsewhere.
Lucky for you, Merrybet is not that type of online bookmaker. The site does not have an application for you to download. This makes it possible for you to bet from any device that supports a mobile browser. Whether it's an iPad, iPhone, Samsung, Sony, Blackberry, Windows, Tecno, or Nokia mobile phone, as long as you have a mobile browser and have access to internet services, you can bet with Merrybet mobile.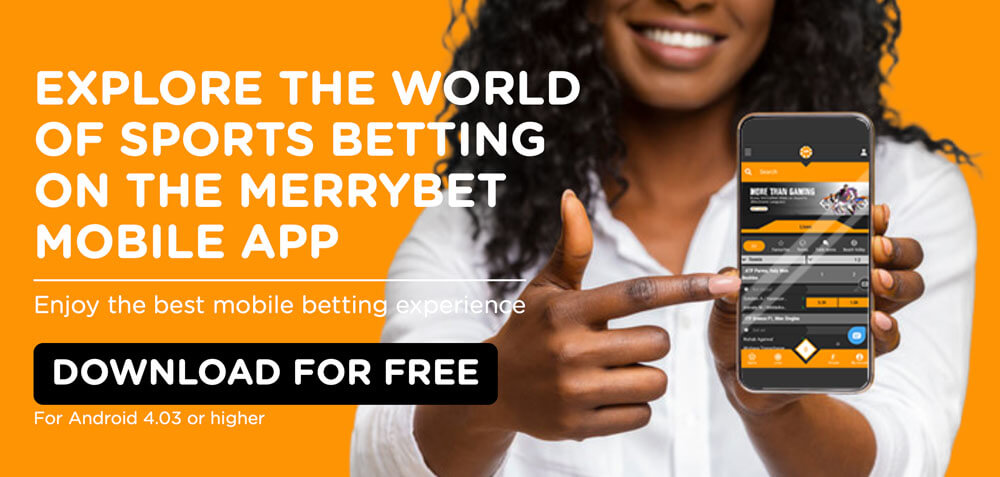 Stats Radar
Before the age of the internet, one had to run around searching for miscellaneous guides and old newspapers to find past information on a team. But that is a thing of the past thanks to the stats radar feature, which you can find on the Merrybet mobile betting site. From Football, Basketball, Tennis, Golf and Rugby to eSports, Futsal, Cricket and Baseball, the stats radar section is a treasure trove of statistics and information for you to devour.
It is presented in a fully interactive way so that you can analyse the team you want to wager on before placing your bet. It includes all sorts of information including the head-to-head, goals, cards, and much more that you need to bet smarter. Of course, smarter bettors use the stats radar feature on the Merrybet mobile platform before placing a bet.
Live Match Alerts
Sometimes, we tend to get too busy to remember some of the things we have planned for the day. If you find yourself in such a situation and would like to remember about a match you'd like to bet on, you can use the live match alerts feature. Through this feature, you are notified when an event you wish to wager on starts.
The best part about the live match alerts feature is it's fully customizable. You can pick what you'd like to receive alerts on. Whether the match is starting, going for halftime, a penalty has been awarded, yellow card, goal/try scored plus much more, you pick what you'd like to be notified about.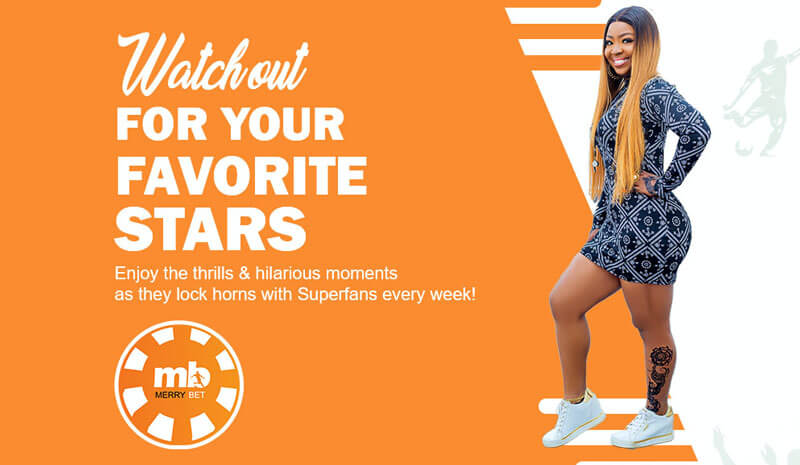 Best Bonus Package

₦ Bonus Package
on first Deposit
Match Live Feature
Although live streaming services are offered through the Merrybet mobile platform for most of the popular events, as discussed online, across multiple Merrybet reviews, the brand also offers a match live feature to substitute live streaming. It is a feature that has enabled those without a Wi-Fi connection to keep track of all the events as they happen in real-time.
What information can you gain from the match live feature? In football, the sport that is very popular among bettors, there's plenty you can gain from. You get to see what team is on the offence if a team is attacking dangerously if there is a corner/goal kick, which team has the ball, plus much more.
The match live feature uses sophisticated algorithms to update the graphics and text on the site across all the top sporting events. Horse racing, darts, rugby, cricket, tennis, basketball, baseball, and many other sports are covered under this.
Past Results Archive
This is a handy feature that enables you to find past results in football, tennis, basketball, horse racing, greyhounds, tennis and several other sporting events. Use the information gathered to make more informed bets in the future, or you can simply fill your head with pointless trivia. It's all up to you!
Using The Merrybet Mobile Platform
So, we've had a chance to look at what the Merrybet mobile platform is about. The features listed above are just some of the few areas where the brand excels. We've also looked at the advantages of using the Merrybet mobile platform. The big question now is, how do you start using the Merrybet mobile betting site? Here's a step-by-step guide that will take you from the sign up/registration process to placing your bet.
Signing Up – A Step by Step Guide
Understanding The Home Screen
The Merrybet lobby screen is the centre for accessing many features of your mobile account. It is from here that you will be accessing the sporting events, markets, odds, promotions and more. It, therefore, makes a lot of sense that you fully understand your way around the lobby before hitting the create account button.
Create an account by hitting the sign up/join/create account button on the homepage. You will be required to fill out the sign-up sheet. Ensure you provide all the required information accurately
Log into your email and click on the email confirmation link. This will redirect you to your Merrybet account – via your browser. From here you can either decide to use your browser to bet or log into your account using the mobile app.
Depositing
Regardless of the method you settle for, the payment methods on offer remain the same. Head over to the banking section and pick from any one of the options. At the time of writing this, there are twelve (12) options, which makes Merrybet one of the bookmakers with the most diversified payment methods. All transactions at Merrybet are processed with state of the art 128-bit SSL data encryption. This means that all the data is protected securely.
Placing Your First Bet
With the funds in your account, you are ready to go. Merrybet supports up to thirty (30) sporting events, giving you an average of about 500 events to bet on a daily basis. On the homepage, select your preferred sporting event, pick your bet, stake the amount and place your bet. If you are lucky to score your bet, winnings will automatically be credited to your account.
Withdrawing Your Wins
Withdrawing your wins is as easy and direct as depositing. Visit the banking section, pick your preferred payment method, enter the amount you wish to withdraw and hit the withdraw button to confirm the request.
There are a few points you have to note about the withdrawal process at Merrybet:
Banking methods used during the deposit process are subject to change. For example, pre-paid cards cannot be used to make a withdrawal. You will have to use an alternative payment method
You have to complete the KYC verification process before withdrawing your wins. If you fail to do this, all the funds will be retained in your account for as long as possible
How long it takes to receive the money to your preferred payment method depends on the method's policies
Support and Help – Get The Help Whenever You Need It
Merrybet has several support channels that you can use to contact experienced and knowledgeable agents. The live chat support services are available 24/7 a day. The other channels, which include calls and WhatsApp, are open from 8 AM – 8 PM every day from Monday to Friday. During the weekends and public holidays, you can reach the support team through the two channels from 9 AM – 6 PM.
You can also contact the support team via email. Write to them in case you have any matter that is not pressing as this channel takes up to 72 hours to respond. For those of you who are accustomed to using the FAQ section, Merrybet does not have one.
Android or iOS
The biggest question today in the tech industry is whether one should go for Android or iOS. At the end of the day, it all comes down to one's personal preference, but for the best online gambling experience, it's best you go for the option that offers you an application.
The majority of the Nigerians would rather stick to the same operating system they have simply because it's much easier to use what they are currently accustomed to. For the case of the Merrybet mobile app, the Android OS is highly recommended. It offers several advantages that include the following:
It serves a lot of Nigerian bettors as most people have Android-powered devices
There is a dedicated application for the Android platform
Optimized for any Android device with operating system version 4.03 or higher
How to Download The Merrybet Mobile App
Downloading the Merrybet Mobile App is direct. There are two ways through which you can accomplish this. They include:
Scan QR Code
For this, simply scan the QR code found on the Merrybet official website. It will take you less than two minutes to complete the whole process
Using The "Download To My Computer Or Tablet" Option
This requires you to have basic knowledge of how mobile phones work in order to install the application. Before clicking on the "download to my computer or tablet" button, you need to visit: settings>install from unknown sources and enable the option. Then follow the steps below:
Download the apk file
Visit the files section on your phone and click on the Merrybet app
Select the install option
Once it's done installing, the application should appear on your device's home screen. Log into your account using the same username and password and start betting.
Advantages of the Merrybet Mobile Platform
No feeling supersedes that of convenience and freedom of going about your business, whenever and wherever. And this is just one of the things that the Merrybet mobile platform offers you. By choosing the Merrybet mobile site, you have:
The Freedom to Travel
Since you are not tied down to the PC or laptop, your pocket-sized casino becomes your tag-along buddy regardless of where your days or night's adventures take you. Whether you are busy during the day, running your errands or simply snuggling up on your couch, you can enjoy Merrybet's services anywhere
Fun Every time, Whenever You Want To Have It
It doesn't matter if you are a night owl or an early bird, the team at Merrybet never sleep and their platform is always alive with rewards, excitement and fun 24 hours a day. They are always ready to entertain you whenever you are ready!
Waiting Is a Thing of The Past
Faced with long times to see your physician? No problem. Do you have a long commute to work? Don't stress about it! With the Merrybet mobile app, you can put the waiting time to proper use! Log into your account within a jiffy and start having some fun. Place your in-play bet, try out the jackpots and see if you can be one of the lucky players to win big with Merrybet.
Lite Mobile Version
Your mobile phone doesn't have enough memory to run the heavy Merrybet mobile app? No problem. Download the lite version of the application, which has been fully optimized for play on all devices. The lite mobile app is compatible with all sorts of Android-powered devices.
Enjoy All Your Betting Needs With Merrybet Mobile
Whether you choose to bet on your Android, Windows, iOS or Google Powered device, Merrybet mobile gives you access to a whole range of sporting events to choose from. Whether you are a big fan of popular sporting events such as football, basketball, tennis, rugby, or golf or you would rather bet on the niche sporting events, Merrybet mobile has something to offer you. And the betting comes with other perks. The odds margins are excellent, there is plenty of promotions and bonuses and superior service delivery overall.
MerryBet Mobile FAQ
Can I Win Money Playing Mobile Casino Games?
Yes, it is possible to win money playing mobile casino games online. Players have won a few hundred Nairas to millions of Nairas while playing at Merrybet casino. How much you win is dependant on the game you pick as well as the amount you spend playing. Casino games such as jackpot slots offer the highest possible payouts, sometimes running into millions of pounds or dollars.
Are Online Casino Games Rigged At Merrybet Casino?
This is a myth and romour that has been propagated for many decades, perhaps with the aim of scaring off players from trying casino games.
What Are My Chances Winning While Playing Merrybet Mobile Casino Games?
Your chances of winning while playing hinge on a number of factors. It depends on the online casino game you pick, the game's RTP, the volatility and your understanding of the game rules. Needless to say, a game that you have a proper understanding of offers you a higher chance of winning. A game with a high RTP, and is less volatile also offers you a better winning chance.
How Much Do I Need To Spend To Win Big At Merrybet?
The beauty of playing casino games online is that you don't need to spend millions to win big. With as little as ₦100, you can win millions playing casino games.
Will My Winnings Get Paid Out If I Win At Merrybet?
As a licensed online casino site, Merrybet is obligated by its licensing body to ensure winners are paid out their cash in good time as stipulated in the terms and conditions. If any website violates this, you have the right to take them to an independent third-party body to arbitrate the matter on your behalf. The good news, however, is that there are no cases of Merrybet refusing to pay out winnings.
Is The Merrybet Mobile Platform Safe?
Merrybet mobile platform is safe and secure. In addition to using state of the art encryption technology, there are a few other measures put in place to ensure all your personal and financial information remains safeguarded at all times.
Which Bonuses Can I Use To Win Casino Games Online?
Any bonus offered at Merrybet can be used to win real money. However, you can only withdraw your winnings after meeting the set wagering requirements and other conditions as per the terms and conditions.
In-play and live streaming of sporting events
Adaptability to new and old mobile devices
A large number of betting markets